April 2012
The solo follow-up to 2010´s Vent, Grin and Conquer is now available. This time out Dan´s ever-shifting musical palette has, for the most part, brought us a guitar-driven album that, as is typical to him, defies categorization and exemplifies just what one man in a home recording studio can achieve. Lyrically he further investigates the recurring Susnara theme of social class structure and his place in it, with some pieces seeming like they might have been the result of direct conversations he´s had. 13 songs, $10.
September 2011
Dan and Micky Saunders have scored again with their "Changing Days" / "You're a Mirror" CDEP. These two never seem to run out of catchy sunshine-y melodies and smart lyrics, and this year's collaboration is no exception. Recorded on a borrowed 4-track reel-to-reel for that authentic retro sound. Purchase through Dan, Micky or this website.
Also, a new ad campaign from insurance conglomerate State Farm features a slogan echoing the title of one of Dan´s 1989 cassette releases. How ironic is that—Dan´s contemptuous Corporate America "borrowing" from him? This billboard was spotted at a bus stop on Chicago´s southwest side. Perhaps the beginning of Dan´s advertising career..?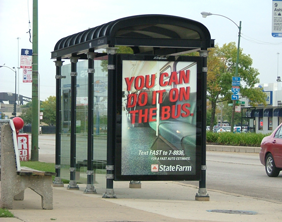 June 2011
Dan's 1992 psychedelic milestone Blacklite Forest is featured as Tape of the Month in Don Campau's "The Living Archive of Underground Music" series. You can read Dan's recollections of recording Blacklite and stream it in its entirety here.
May 2011
Prequel: The First Annual Trips Festival is actually the sequel to the 2010 Dan Susnara / Greg Stomberg epic The 2nd Annual Trips Festival. What started as a bonus track to 2nd Trips turned out to be a full 70-minute storytelling excursion, again featuring Greg's vivid recollection of a 1970s-era drugfest set against a perfect Susnara musical backdrop. A great memoir for anyone who lived through that time and, for those that didn't, a revealing example of counterculture exuberance and high jinks. Meet the Midwest's Merry Pranksters, available through this website.
November 2010
2010 ends on a high note with two fine new Dan Susnara releases.
Dan's annual trip to California has resulted in yet another slice of groovy psychedelic pop with Micky Saunders. On "Riding On Moonbeams" / "Analog Slim In Luddite Land" the two veteran home-tapers serve up another pair of catchy melodies inherently reminiscent of the garages of America circa 1966. Dan and Micky have never sounded better together and this EP illustrates just how intuitive the two have become with each other after years of collaboration. (CDEP $3)
Also available now is Dan's new solo album, Vent, Grin and Conquer. Less esoteric than its 2009 predecessor My August Mac, on this release Dan returns to a more straightforward pop sound with the typical Susnara results: 10 melodic gems featuring inspired playing, imaginative production and intelligent, no-holds-barred lyrics. Buy this CD and find out why Dan Susnara is one of Indie Rock's most notoriously neglected artists. (CD $10)
April 2010
Dan's latest is yet another step in a different direction. The 2nd Annual Trips Festival is a 2CD collaboration with long-time friend Greg Stomberg. Trips is a spoken word tale told by Greg regarding a certain youthful psychedelic evening that would impress even Carlos Castenada. Dan provides an equally as adventurous sonic backdrop that enhances the narrative while perfectly supplementing the impetuousness nature of the story. Great on headphones. Available for $15 through this website or Dan directly.
January 2010
Unfortunately, the new year begins on a sad note. Deepest sympathy goes out to Dan and the entire Susnara family on the death of his father, who passed away January 23.
September 2009
The 2009 offering from Dan Susnara and Micky Saunders is a 2-song CD single, "In the Same Old Place" / "Everything You're Not". "In the Same Old Place" is a catchy burst of fuzz-guitar Power Pop dance party energy that features a delicious multi-tracked Micky vocal. "Everything You're Not" is Dan and Micky's homage to The Cars, complete with heavy cadence and hook-laden synth lines. Guaranteed to please any fan of late 70s/early80s New Wave! As always, available from either Dan or Micky.
In other news, Dan has begun work on another collaboration with Greg Stomberg, this time playing the role of narrator! The 2nd Annual Trips Festival is an audio version of a short story written by Greg about a group of friends whose lives are changed forever after a night of indulgence. "I really liked the story," says Dan, "and hope to do [it] justice."
April 2009
Dan's long-awaited follow-up to Biscupids has finally arrived—and it was worth every minute of the wait! A year-and-a-half in the making, My August Mac is a sprawling 25-song, 2½-hour, 2 disc set of songs and soundscapes showcasing the work of a mature artist recording at the height of his creative powers. Less jangly and 60s-ish than some of Dan's previous work, the album is a tour-de-force that explores the darker side of psychedelia—this time more Edward Ka-Spel than Beatles. The minutiae of Dan's alchemic cognition reveals itself slowly and mysteriously, presenting the listener with an ambitious and rewarding aural experience where something new and different is heard every time it's played. Late-night headphone listening is highly recommended.
A masterpiece amidst a catalog of masterpieces, this just might be the best recording Dan Susnara has ever released. It's available for $15 directly through Dan (see contact page) or email daddyo@metrowebstudios.com.
November 2008
The end of the year brings not only one, but two new Dan Susnara-Micky Saunders releases. "In a Luv Factory"/"That's Nothing New" is yet another great sunshine pop effort from two masters of sunshine pop that never seem to run out of catchy melodies and clever lyrics.
That fact becomes undeniably evident on 2002–2007 Singles, a retrospective of the last five years of Dan and Micky's annual summer collaborations. More than half the songs included appear on CD for the first time.
Both releases are available through Dan or Micky ($10 CD, $3 CDEP).
August 2007
9 On Bali's Sanur is a single 26-minute piece that explores the more progressive aspects of the band's sonic palette. With an expanded lineup that crosses several state lines and includes the three Dans as well as recent Bali collaborator Pat Hamilton and longtime friend Jim Molina, Sanur is yet another step in the evolution of a band that refuses to stop evolving.
Get Sanur here.
July 2007
Dan's annual summer vacation in Ontario, California has yielded yet another psychedelic pop gem. The 9th collaborative effort of Dan and veteran hometaper Micky Saunders is now available: Contagious Clouds includes three tracks of melodic pop and surreal soundscapes packaged in another fine Isabelle Sanderman cover.
The disc can be purchased from either Dan or Micky.
March 2007
Bicuspids, Dan's FIRST solo CD ever, is finally available! The album contains 13 songs—6 left over from the Cusp sessions and 7 brand new.
The cd can be purchased from BandMecca.com.
January 2007
A new year, a new Audible CropCircle Song of the Month cd. Volume 2 features Dan Susnara on 2 songs, "My Places (Instrumental Version)" (solo) and "Water In My Eyes" (9 On Bali live at the Art Asylum). Other artists include Star Period Star, House of Knotty Effects, Jim Molina & Tom Hess, Sinister Moustache, Weatherbone, Ron Jagielnik and Port City Music.
The cd can be purchased at BandMecca.com.
October 2006
In what looks to be Dan's only non-compilation release of 2006, Fishbowl World is now available. A 3-song CDEP from Dan in collaboration with Micky Saunders (their 8th together!), the disc is another slice of imaginative psychedelic pop as only Dan and Micky can deliver. Copies can be purchased through either Dan Susnara or Micky Saunders.
September 2006
Dan will be performing with 9 On Bali for a couple of rare live appearances.
Saturday, Sept 9th - 6-8 pm
9 On Bali will be doing a live radio interview on "The Trip With Clay Gaunce" on WRFL in Lexington, KY. You can listen to the show live via the internet at the following address:
http://wrfl881.org/Pages/listenNow.php
Also,on Sunday, Sept 10 (8-10 pm) 9 On Bali will performing at:

The Sentient Bean
13 E. Park Ave.
Savannah, GA.
912-232-4447
They'll be playing two 45 minute sets including a mix of songs from Kite Hawker on the Beach and their ambient material.
This will be the first time the full band has played with Dan Susnara.
August 2006
Dan is planning a trip to South Carolina in September; watch this space (or http://www.cropcirclecollective.com/balilive.htm) for updates on 9 On Bali shows in the southeast U.S.
July 2006
Happy birthday, Dan!
June 2006
Dan is once again this month's Cropcircle Collective Song of the Month artist. Featured is "My Places", an instrumental with a somewhat Middle Eastern motif. The song is free to download throughout the month of June at http://www.cropcirclecollective.com/songofmonth.htm.
Also, 9 On Bali (sans Dan Susnara) will be performing a rare live show on Friday, June 2 at Art Asylum, 1230 May River Rd (Highway 46), Bluffton, SC. The show is free and begins at 6 pm. Call 843-757-2741 for more information.
January 2006
The first month of 2006 brings the Audible Cropcircle's 2005 Song of the Month CD. Compiled by Dan's 9 On Bali collaborator Dan Sweigert, the disc collects the free downloads from the various artists of the Cropcircle Collective. Dan's contributions include "Would You Be My Girlfriend?" and an unreleased 9 On Bali song entitled "Ordinary Lives". You can purchase the cd through BandMecca.com (http://bandmecca.com/viewband.cfm?ID=969). Of course, you can keep up with all the CropCircle artists and check out each month's new downloads by visiting http://www.cropcirclecollective.com/.
Another new release is Don Campau's Pen Pals 4 collaboration CDR, featuring Dan Susnara, Micky Saunders and others. Now available from http://lonelywhistle.tripod.com/lwcatalog/.
November 2005
The first new Dan Susnara solo release since 2003's Esso Bo Peepa has arrived! Now available: Cusp. Possibly the last cassette release...???
September 2005
Dan's new EP with Micky Saunders is out now. The cassette features three new songs, "The Hello People", "Running Through the Rain" and "Summerage" and is available through Dan and Micky. In addition, for the first time ever for a Susnara release, "The Hello People" and "Running Through the Rain" both have accompanying VIDEOS!
Those who tuned in to the 9 On Bali interview in Lexington last month heard that Dan is readying himself to make the move to digital recording and the world of compact disc. Until that time, though, we'll have to wait for his next cassette release, which Dan reports is currently in its final stages.
According to Don Campau's website, his compilation Pen Pals 4 is in the final stages of production. Dan Susnara has two songs on the compilation, "Run to the River" and "Screw My Brain Till It Hurts". The disc also features Micky Saunders, Lord Litter, Andrew Maurer and more.
To hear a live acoustic version of 9 On Bali's "At His Cordial Best" from last month's WRFL interview, go here.
August 2005
9 on Bali will again be playing live on the radio, this time in Lexington, KY. On Saturday, August 27, Dan and Dan will be appearing on a progressive/psychedelic/experimental show called "The Trip" hosted by Clay Gaunce on WRFL 88.1 - FM. The show also will be simulcast on WRFL's website.
June 2005
9 on Bali will be playing live Saturday, June 11 on Little Fyodor's "Under the Floorboards" show on KGNU radio, Boulder, CO. It will also be webcast online.
Dan and Dan will be on at 11pm in Boulder, which will be 12 midnight in the Chicago/Midwest area. The show runs for an hour. Fyodor will be interviewing the band in between songs and playing cuts from the Kite Hawker on the Beach CD.
April 2005
Best wishes for a speedy recovery to Susnara collaborator Greg Stomberg, who was recently involved in an automobile accident.
March 2005
Kite Hawker on the Beach by 9 On Bali has been released and is now available through ZNR Mail Order!
Also, Dan's new song, "Would You Like To Be My Girlfriend?" is the Song of the Month on the Cropcircle Collective website. The song is free to download throughout the month of March.
February 2005
According to Don Campau's website, both Dan Susnara and Micky Saunders are contributing to a project of his entitled Pen Pals 4. Don mentions he has received Dan's backing track for "Screw My Brain Til It Hurts" and that he expects a June or July 2005 release.
January 2005
The first full-length release from 9 On Bali, Kite Hawker On the Beach, is in its final production stages and should be released towards the end of February. Also, Dan is already making plans to visit Micky Saunders in California this summer to record another cassette single.
Dan Sweigert of 9 On Bali discusses the new album and working with Dan Susnara in an interview recorded January 29, 2005. To hear that interview, click here.
October 2004
Dan is currently starting work on his next solo release—a pop project."…It'll be quite awhile before that surfaces…"